Monosiga
Index | Introduction | Appearance | Ultrastructure | Reproduction and Life History | Similar genera | Classification | Taxonomy and Nomenclature | Cultures | References | Internet resources
---
REPRODUCTION AND LIFE HISTORY
---
Asexual reproduction is by binary cell division, during which the parental flagellum is resorbed and the flagella of the two daughter cells appear: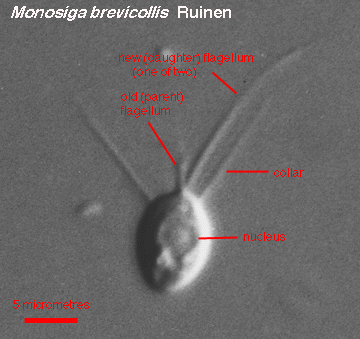 Flagellar replication: early stage in cell division
---
One daughter cell typically remains in the parent theca while the other swims away as a zoospore.
Cysts are not yet known for Monosiga, though they have been described for species in other choanoflagellate genera. Sexual reproduction is unknown.
---
Monosiga: Index | Introduction | Appearance | Ultrastructure | Reproduction and Life History | Similar genera | Classification | Taxonomy and Nomenclature | Cultures | References | Internet resources
Protist Image Data: Picture Gallery | Home Page