Heterotachy: an important process of protein evolution
Supplementary material

Lopez P., Casane D., Philippe H.
Mol Biol Evol. 2002 Jan;19(1):1-7

The file containing all the 2,065 cytochrome b sequences, along with their accession numbers, can be downloaded here in Nexus format.

The 32 groups we used are defined as follows: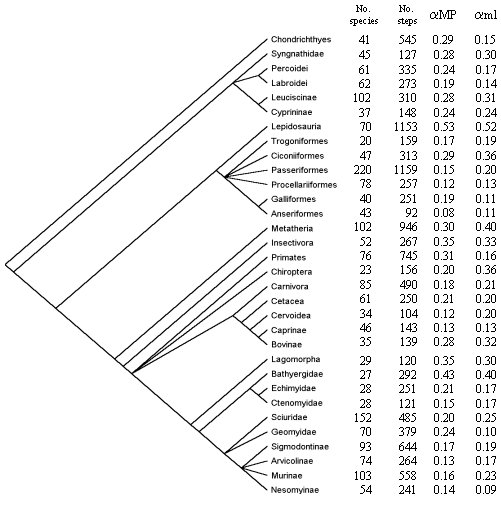 No. species: number of species in the group;
No. steps: number of changes in the most parsimonous phylogenetic tree of the group;
aMP and aml: alpha parameter of the gamma distribution of the substitution rate estimated using the distribution of the number of changes per site (aMP with the minimum required substitutions inferred by parsimony method, aml with the expected numbers of substitutions estimated by maximum likelihood).
All the analyses were performed using an internal fragment (335 a.a., from FGSLL to LILMP in the human sequence) of the cytochrome b (380 a.a.). We discarded the two extremities of the sequences, which are unknown in many species.

Simulations of the 200-taxa data sets were performed by Fitch's program simtree, using this file as the tree definition. Simtree is available from Walter Fitch upon request.



Back to publication list